How to Create Online Order Form Templates For Selling Food
Updated: Jan 21, 2023
Published: Jan 21, 2023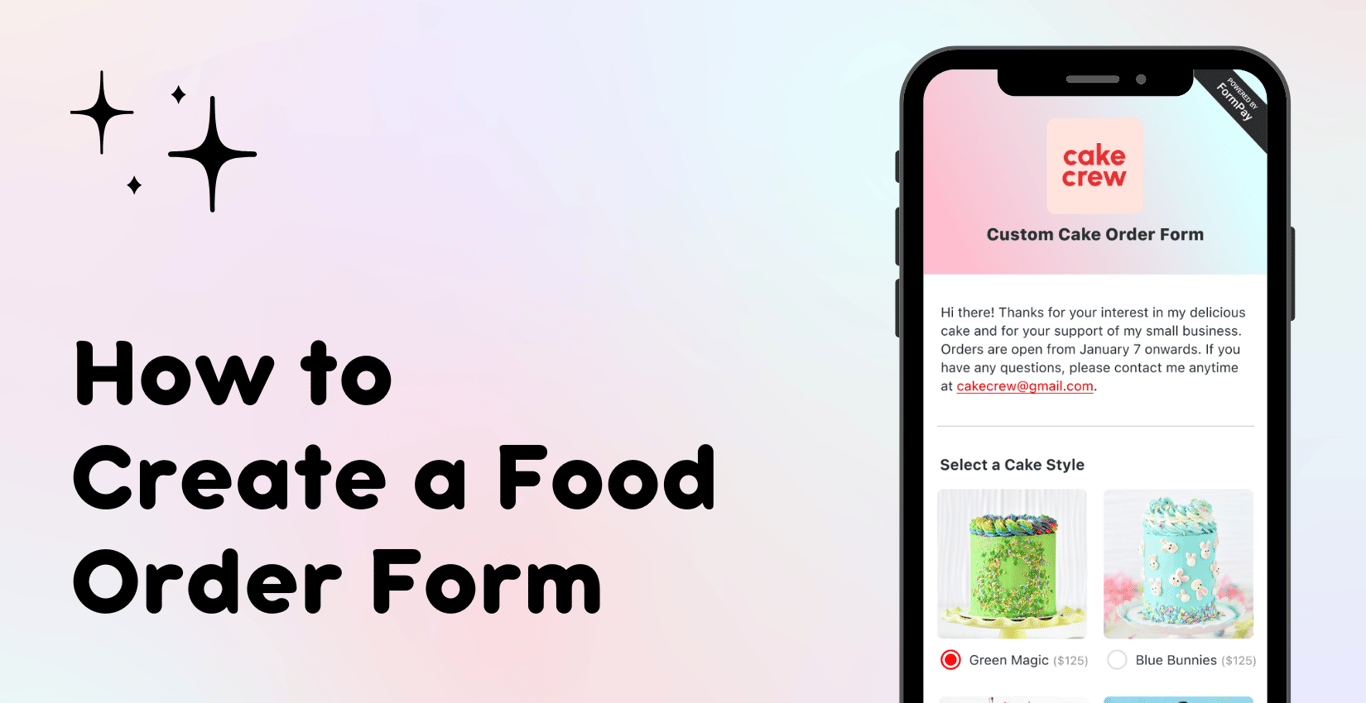 Order forms may seem like a tedious topic to think about when you're starting a new business, but they're a critical part of operating any online food business. For example, if you're a bakery offering many customizations options, a catering business with a large menu, or a home-based food business offering pickup and delivery, you need to make sure that your customers' order information is captured accurately and efficiently for the best possible customer experience. On the other hand, if you're currently taking ad-hoc orders through email or text, online order forms can help you run your business a lot more smoothly.
Benefits of using order form templates for food sales
Using an order form to complement your business has many benefits that can help you save time and reduce administration work. Some of the advantages include:
1. Standardized and accurate data collection
Instead of having to manually parse through freeform text messages, having one standard order form lets you get all the information you need in the same way for every customer. This way, you won't lose track of orders or the details of those orders, and you'll have much better record-keeping.
2. Self-service for customers
Customers don't have to wait until you're available to take their orders and confirm them. You can link your social media and website to the order form and they can just order the food they want whenever they want.
3. Ability to collect customer contact information
With accurate and consistent data, you can also use the form to gather customer contact information so you can keep in touch with them and send the promotions to keep them coming back.
4. Your order form can serve as your website
You're in the business of selling food, not selling technology. Using a simple ecommerce order form builder like FormPay can give you a beautiful order form that can also serve as your website.
Different types of food order form templates
Depending on the type of customers you have, and how much administration work you want to take on, there are different types of order form creation tools suited for every situation.
1. Fillable PDF or Microsoft Word Templates
You can create fillable form templates using Adobe Acrobat or Microsoft Word.
Pros: This might be a good option if you do all your business over email or need to print out physical forms.
Cons: You and your customers both have to download additional software or pay a subscription in order to build and fill in the form.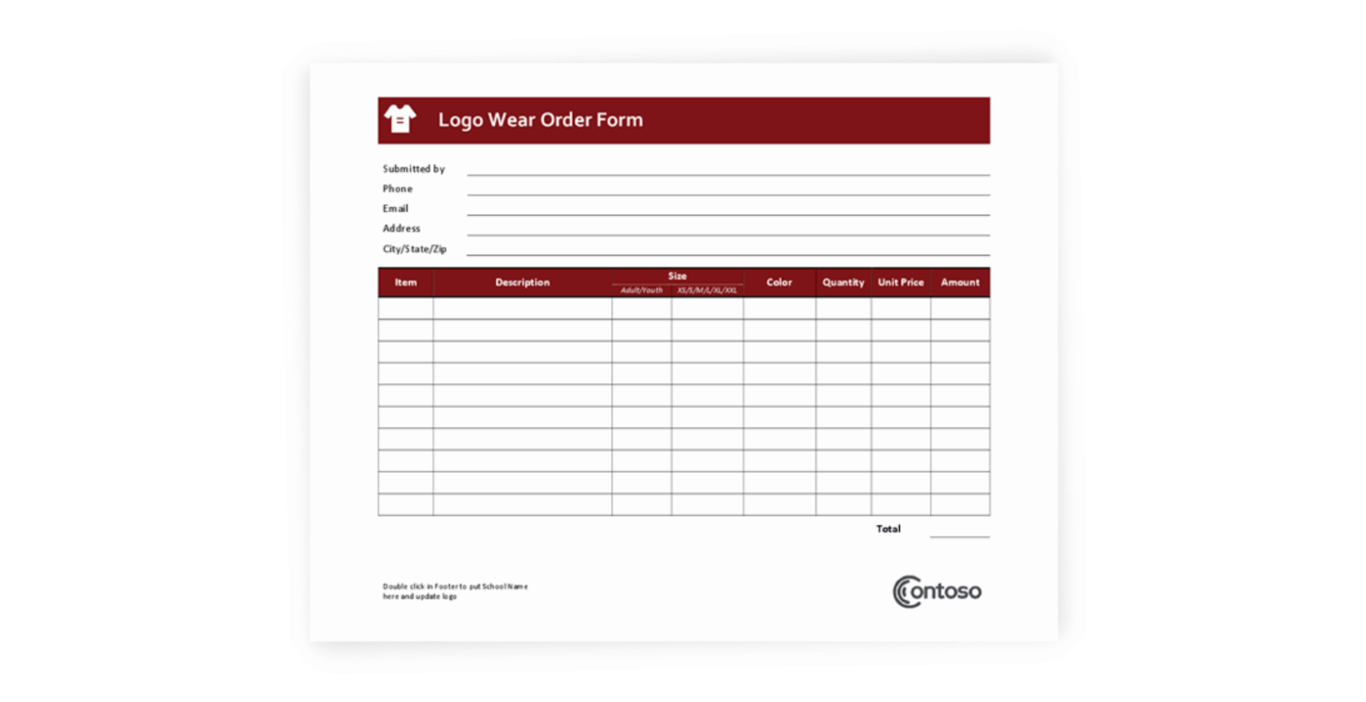 2. Survey Software like Google Forms and Typeform
Form and survey tools like Google Forms and Typeform can emulate an order form with a set of questions and answers.
Pros: They have an easy-to-use interface and typically come with a free or free trial version you can use to test the waters. Google Forms has add-ons for missing features.
Cons: The downside to using survey software is that they are not built for ecommerce, so they won't automatically calculate order totals or include online sales tools like payment processing or order management. Some tools may also limit the number of questions or responses you may be able to receive in a certain timeframe.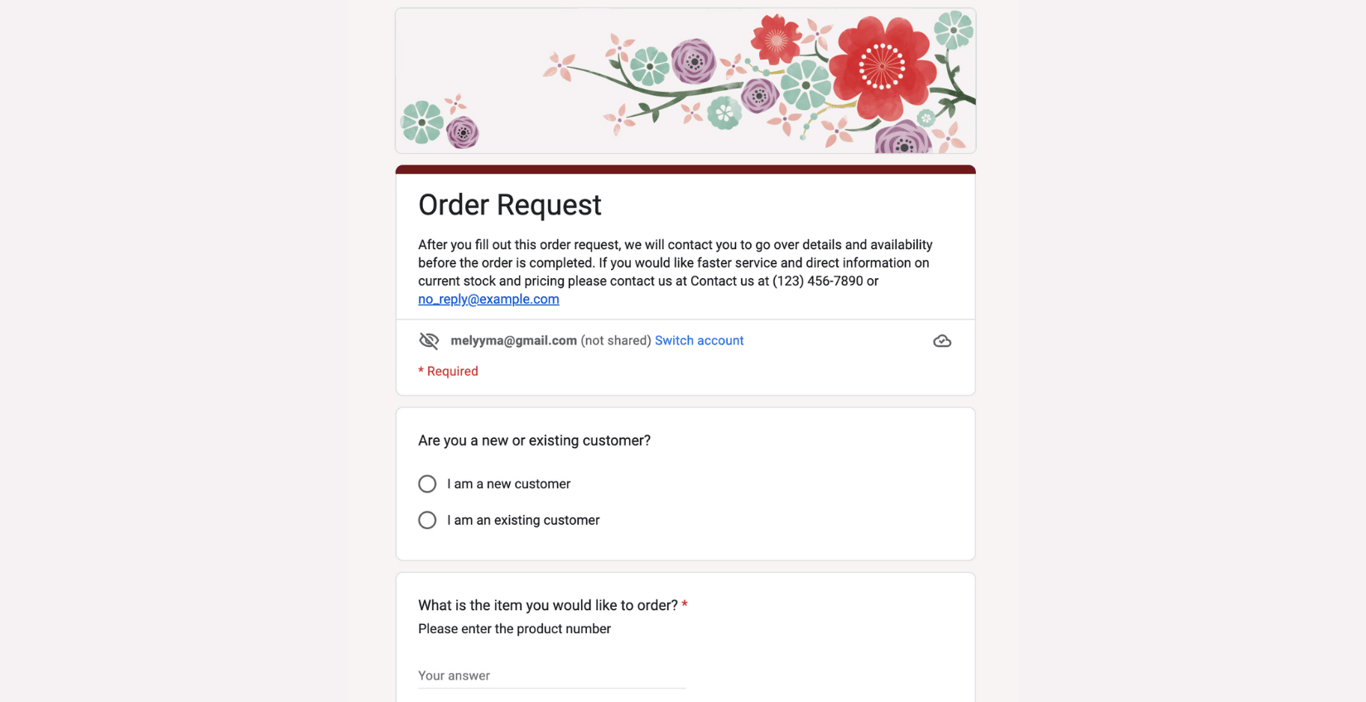 3. Ecommerce Software like Shopify, Wix, and Square
Ecommerce website-builders designed for online sales can be used as an order form in addition to being an online brochure for your brand.
Pros: You can create a full-fledged website with an online catalog for self-service ordering. They typically include an order management system designed for online businesses.
Cons: Typically requires a certain comfort with technology to use them optimally and may take awhile to set up due to their complexity. Because they're more robust software systems, they usually have heftier monthly and transaction fees.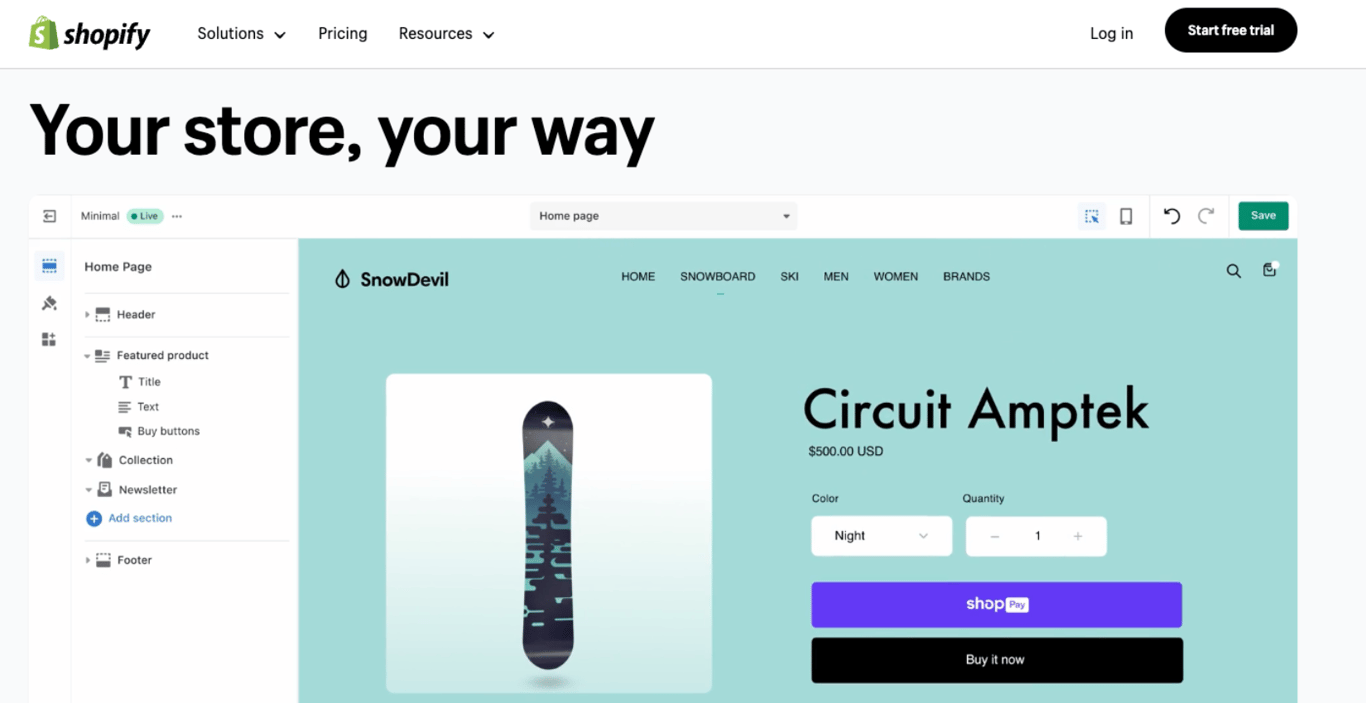 4. FormPay
A happy medium in between basic survey software and complex ecommerce software is FormPay. FormPay is like a beautiful Google Forms with payments processing, built-in pickup and delivery fulfillment options, and automatic order management, designed for small food businesses that want to sell online quickly.
Pros: Simple to set up and easy to use. FormPay includes the best of Google Forms and ecommerce software solutions. It's also risk-free to use with no monthly fees.
Cons: May not be suited for businesses with complex and custom business requirements.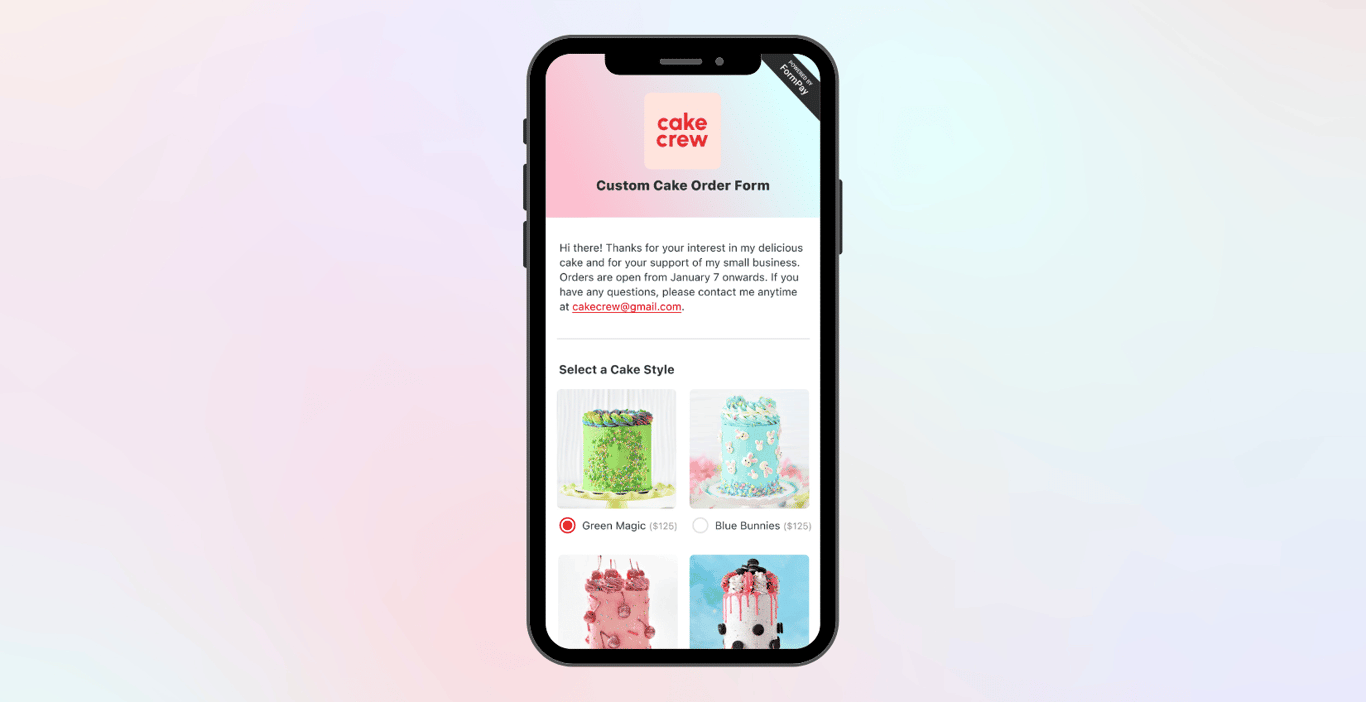 How to create a food order form template
Now that you're convinced that you want to create an order form and you've chosen your order form builder of choice, the next step is to figure out what should be on the order form template.
Your business contact and marketing information
Include any marketing and business contact information so that your customers know how to reach you and can take part in any promotions you're offering. Use the space to show off your brand personality.
Order item, quantity, customization and fee information
If you're using a survey tool like Google Form, your customers may have to calculate their order totals manually leaving room for errors if you don't double check. On the other hand, ecommerce tools like FormPay will get all the order information and calculate the order totals, including any taxes and discounts, automatically.
Pickup and delivery fulfillment details
You want to collect fulfillment details such as pickup or delivery date and time, addresses, and any other instructions.
Customer contact information
This is essential for any order form. At minimum, you should collect customer names and a preferred contact method like email or phone. You can also ask your customers if they want to sign up to your mailing list so you can reach out to them about future promotions and business updates.
Additional questions and information
It's always a good idea to leave an open text box to let your customers ask you any questions, leave pertinent directions and information such as food allergies, or offer feedback.
Terms of service
Determine what your terms of service are, such as your policies for refunds, allergies, food quality and expiration dates, or private policies. Ensure that your customers actively agree to the terms of service so that order expectations are set.
Payment method and information
If you're using a PDF or document fillable form, a Google Form or survey tool, you can leave information with your payment link <LINK> to let your customer pay you. However, you should not collect your customer's credit card information with form fields, because it is a security risk. If you want to collect credit card payments automatically, then an ecommerce solution or a simple online order form solution like FormPay is a safe and secure bet that will minimize your need for manual reconciliation at the same time.
Examples of online order form templates for food sales
You don't have to start from scratch, here are some online order food templates and examples to inspire you to get started with your own:
Promoting your food order form
Lastly, once you have your order form set up, you should promote it to your customers so they know to use it. Here are some ideas on how to promote it:
Add your order form link to your social media bios and your website
Create automated messages on your social media accounts and Whatsapp messages to direct people to place orders on your order form.
Add an email signature footer message with a link to your form
Run a limited time promo to incentivize people to use your order form
Summary
In conclusion, order forms provide an easy and efficient way to collect data, organize order info, and streamline business processes. Whether you're looking to complement your existing ordering process or completely replace it – order forms offer food businesses a great way to quickly set up an online ordering system with minimal effort. With the help of robust yet user-friendly platforms such as FormPay, customizing your online forms has never been easier. For business owners looking to simplify their data collection process and ensure effective organization – order templates are definitely a tool worth considering.
Start selling online with FormPay