Best Order Management Software Tools for Small Businesses
Updated: Jan 21, 2023
Published: Jan 11, 2023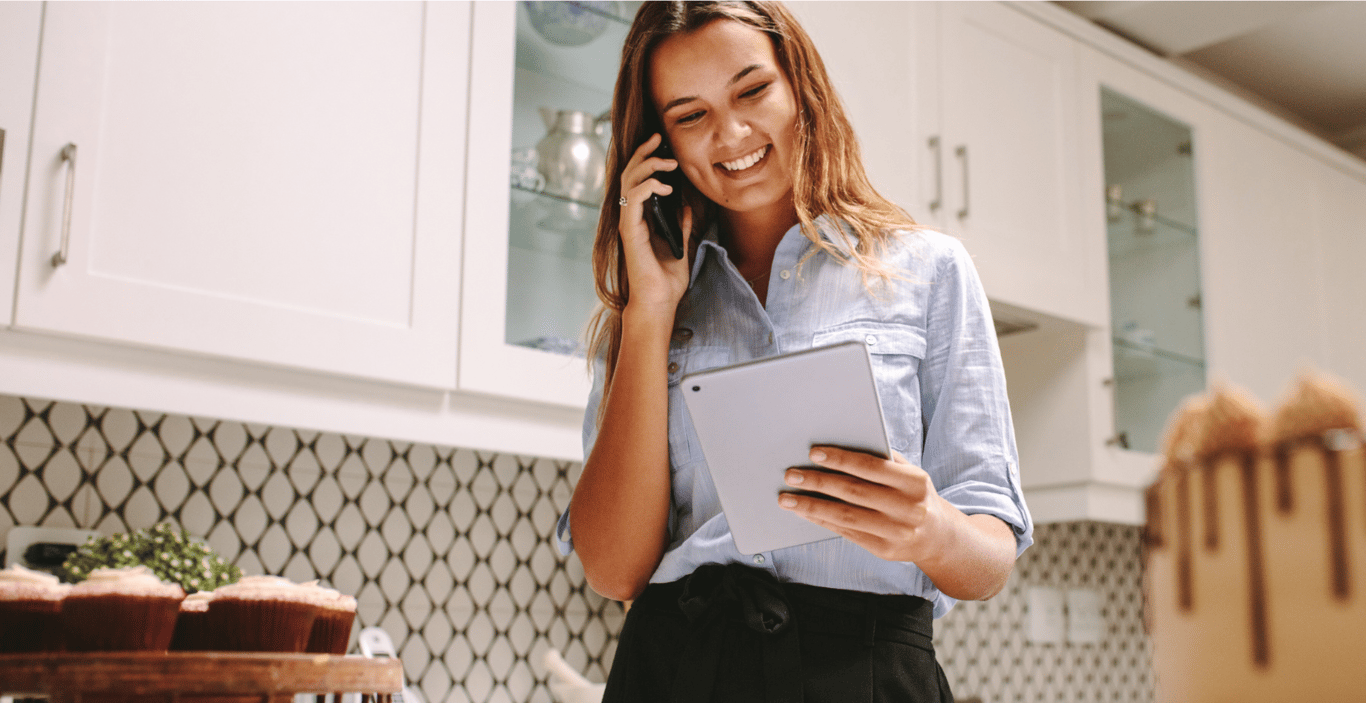 As a small business owner, managing orders and keeping track of customer data can be a huge hassle. But it doesn't have to be! Instead of manually taking customer orders over DMs, chasing down payments, and then tracking orders on spreadsheets or Google Forms, you can use e-commerce and online order management systems, like FormPay. This type of software is designed to help you get rid of all the paperwork and streamline your operations. This means less time spent on annoying admin tasks, and more time focused on what you do best: growing your business.
What is online order management software?
Order management software are powerful tools that help small businesses like yours keep track of orders, saving you the trouble of manually sorting through emails and DMs. It usually consists of an interface like an order form for you and your customers to submit and pay for their orders online, an automatic order notification system, and a dashboard for you to manage your orders — a big step up from Google Forms and their extensions.
The software keeps all the important information you need to fulfill your orders, such as customer contact information, order dates, and totals, in one place. Depending on the software vendor, the software could be adaptable to all different kinds of small businesses, whether you're selling food, arts and crafts, personal services, or digital products.
Recommended online order management software for small businesses
It's essential to choose the order managing system that best suits the needs of your specific business and where your business is at. In this article, we'll be discussing the best online order management software for small businesses that are alternatives to Google Forms.
FormPay is the easiest and most user-friendly way to manage your online sales and reduce paperwork quickly. You can create a beautiful online order form to sell anything you want with no prior experience. It's designed specifically for small businesses that are getting started with online sales and need something a bit more sophisticated than Google Forms and DMs to manage orders, accept payments, and build customer mailing lists. FormPay is built for the independent business that wants to get selling online quickly without all the hassle of setting up a complex e-commerce site. Once it's set up, you can just link it on your Instagram account or any sales channel to start selling right away. And the great news is — there are no monthly fees and you don't pay until you make a sale, so it's completely risk free to get started.
Key Features:
Beautiful and easy-to-set up online order forms
Cash and credit card payments
Pickup and delivery options available
Automatic order notifications for merchants and customers
Supports orders for customized products and services
No monthly fees
Best for: Small businesses selling food, arts and crafts, and memberships and registrations.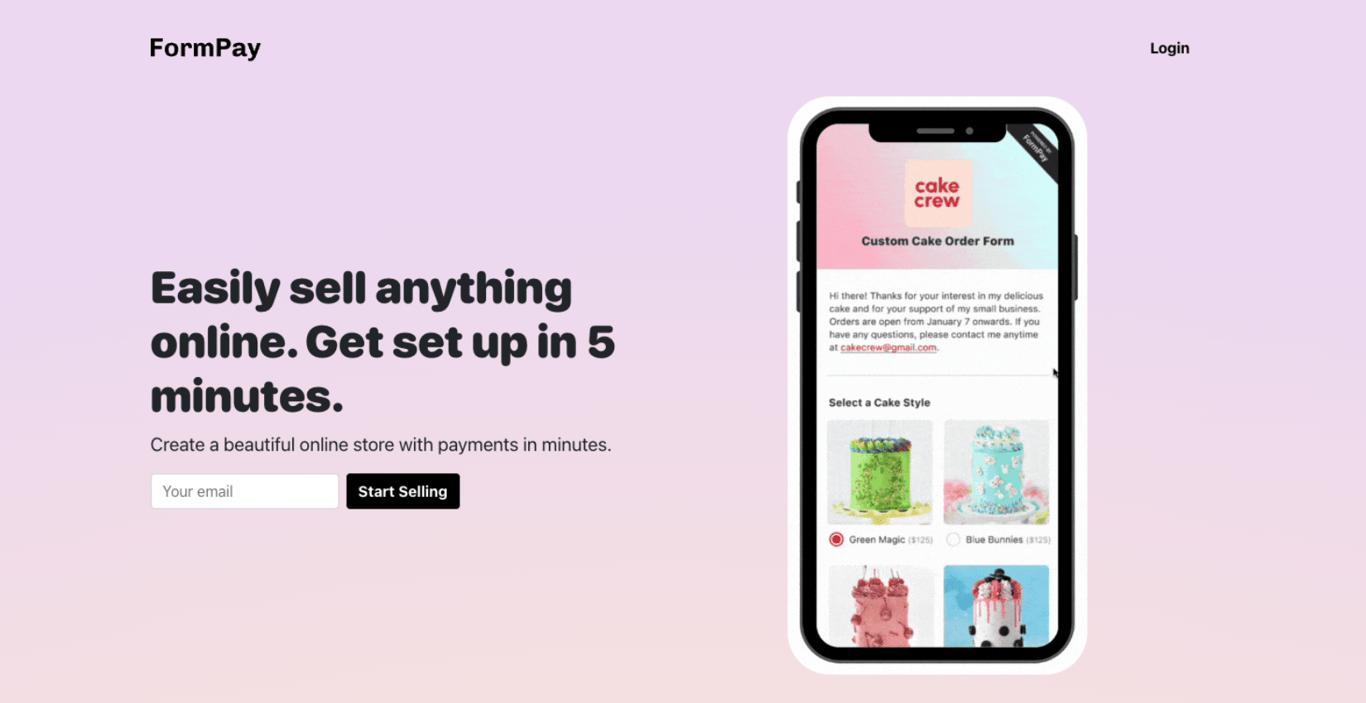 Shopify is an e-commerce platform that operates in over 100 countries across the world. It's geared towards tech-savvy entrepreneurs and teams who are creating online businesses that need a fully customized website and order management system for their operations. If you don't see a feature available out-of-the-box, their Shopify App Store contains many third-party plugins available for additional fees. It's perfect for small to large businesses with in-house or outsourced tech capabilities.
Key Features:
Customizable e-commerce websites
Product inventory management and shipping
Shopify App Store with third-party plugins for e-commerce site and backend order management
Headless e-commerce capabilities
Best for: Tech-savvy medium to large brands selling physical products online, including dropshipping businesses.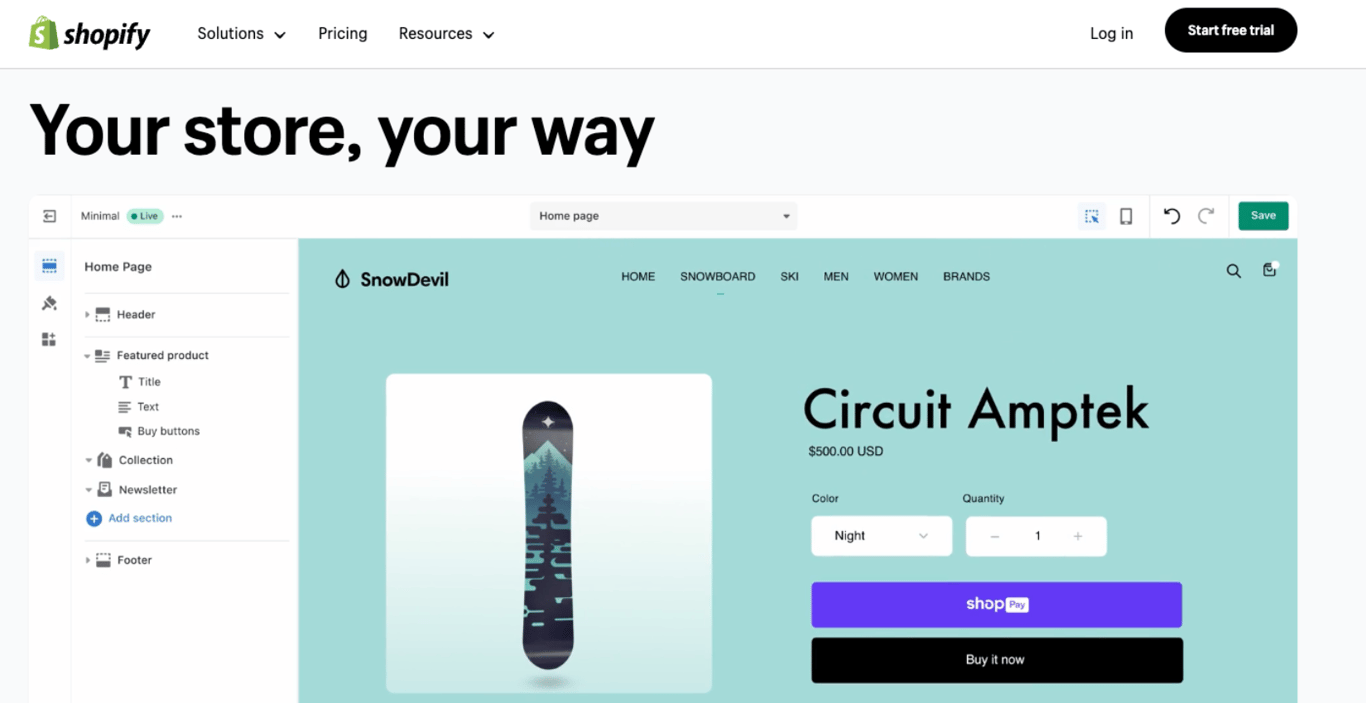 Square is best known for its white square dongle and point of sales (POS) system for accepting in-person credit card payments at farmer's markets, food trucks, and craft fairs. A lesser known fact is that they also have an e-commerce solution for online sales. Square Online has a wide range of features including inventory management, marketing tools,and analytics included or for additional fees. Its major benefits are omnichannel syncing between in-person point of sales systems and e-commerce, which is the most useful for businesses that want to manage their online and brick-and-mortar retail store orders together.
Key features:
Omnichannel syncing between Square POS and Square Online orders
Built-in Square credit card payment processing
Integrated online and offline inventory management
Pickup, local delivery and shipping available
Best for: Small to medium-sized restaurant and retailers with both single or multi-location physical store and online presence. Currently available in countries where Square credit card payment processing is available.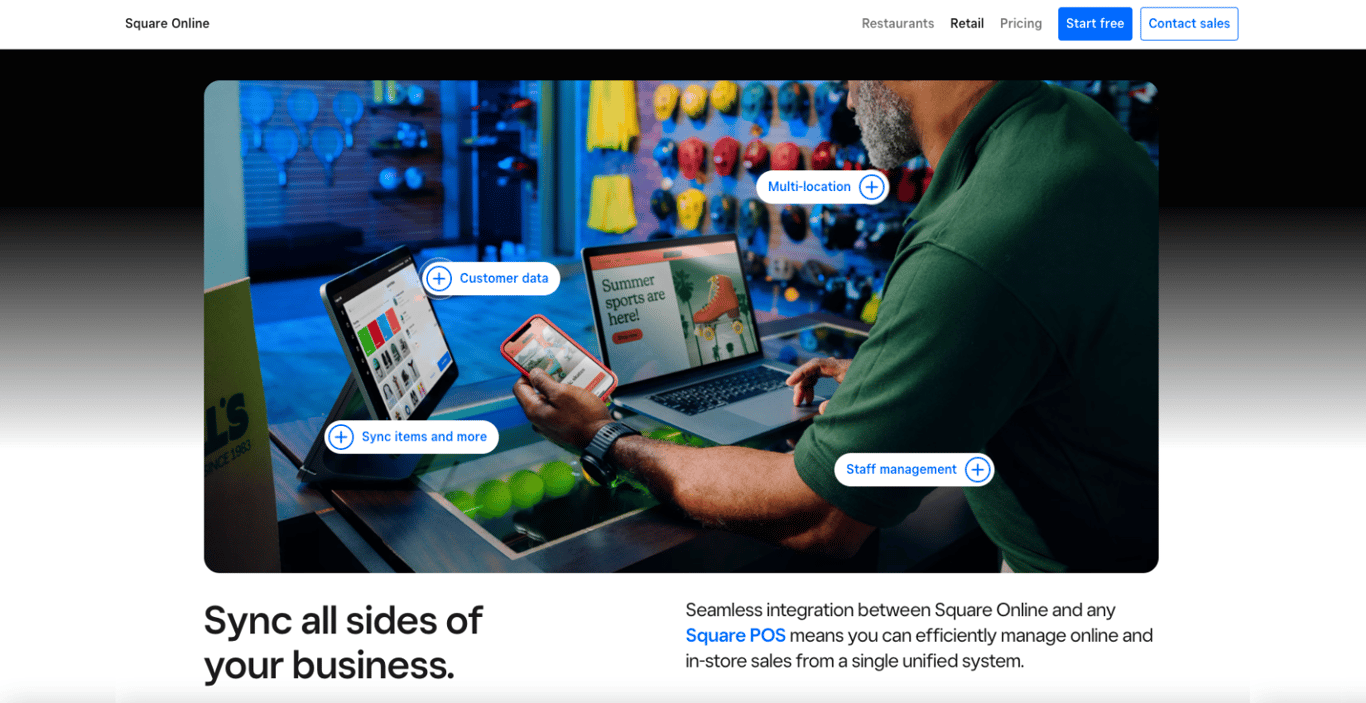 Meta offers basic e-commerce and online order management features on their Facebook and Instagram platforms called "Shop" for US-based businesses. Although Shop offers limited branding and customization options, it's convenient for your social media followers, since they do not have to leave the comfort of these social media sites to buy. At the same time, you can manage both your social media accounts, DMs, ads, and online orders in one place.
Key features:
Integrated with Facebook and Instagram platforms
Credit card checkout
Simple inventory management
Multiple sales channels on Meta's platforms
Best for: Businesses with Facebook and Instagram followers and sell physical retail products. Currently available for US-based businesses only.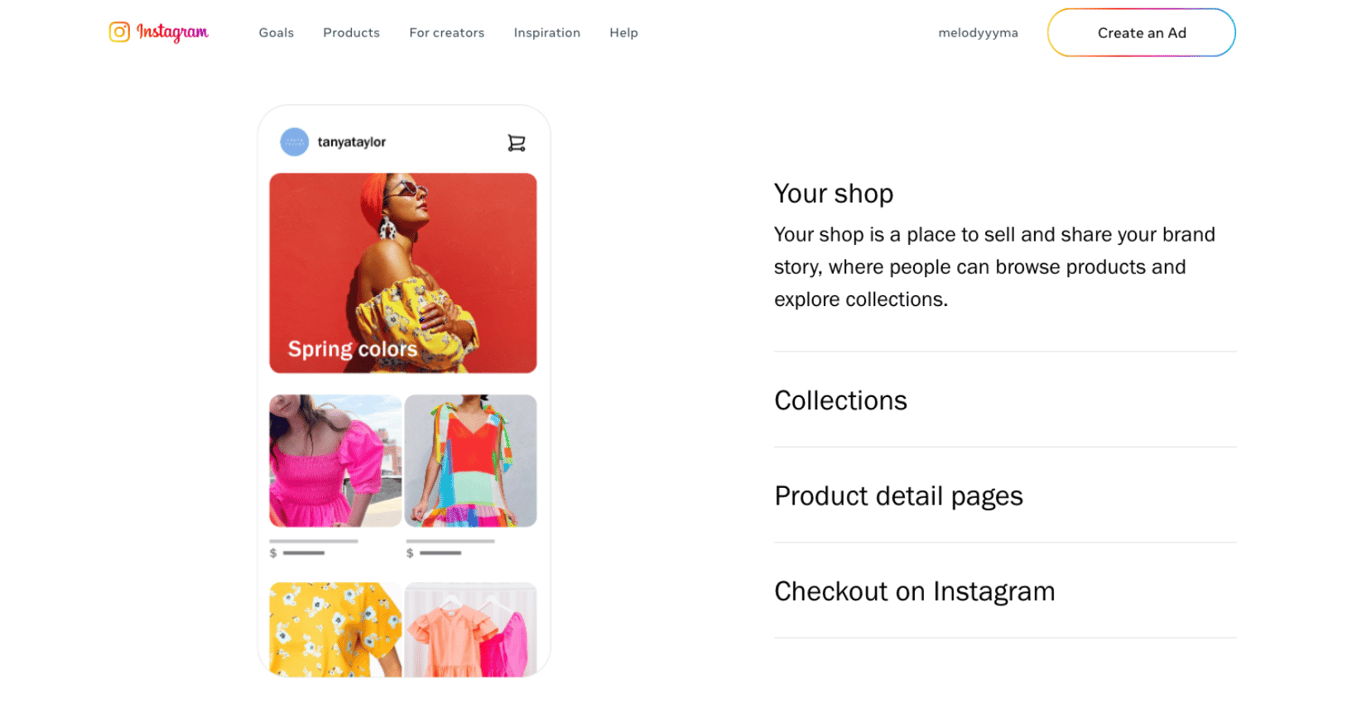 How to choose the best online order management software for your business
There are many online order management systems to choose from and selecting the best one depends on where your business is at, what you're selling, how much time you have, and your budget. Some evaluation criteria you might want to consider include:
Support for the product or service you are offering: food, physical products, services, digital products, etc.
Ease of set-up and ongoing technical maintenance for the time and skills you have
Support for the location where your business is operating
Types of payments you can accept: credit card, cash, etc.
Ability to brand and customize your online order form or store
Ability to manage fulfillment options you are offering: pickup, delivery, digital fulfillment, etc.
Pricing and fee structure that fits your budget: monthly fees, transaction fees, add-on fees, etc.
Inventory management, if applicable
Integration with offline retail sales, if applicable
So there you have it! These are just some of the online order management software available to small businesses like yours. Ultimately, the best order management system is one that can fit your business needs and operations, so that you can work smarter and not harder.
Start selling online with FormPay