7 Best Ecommerce Website Builders for Small Businesses in 2023
Updated: Jan 21, 2023
Published: Jan 21, 2023
Building an ecommerce website is critical for small business owners like yourself who want to sell online. But, it could feel like a massive project to get started on, particularly if tech isn't exactly your thing. Luckily, you don't have to build an ecommerce website from scratch anymore. But, there are so many online store builders out there, how do you even figure out which one makes the most sense for your needs, budget, and technical know-how? We'll be reviewing the top ecommerce website builders for small businesses — from big brand names to up-and-coming gems — so that you'll feel confident choosing the best ecommerce website builder for your business.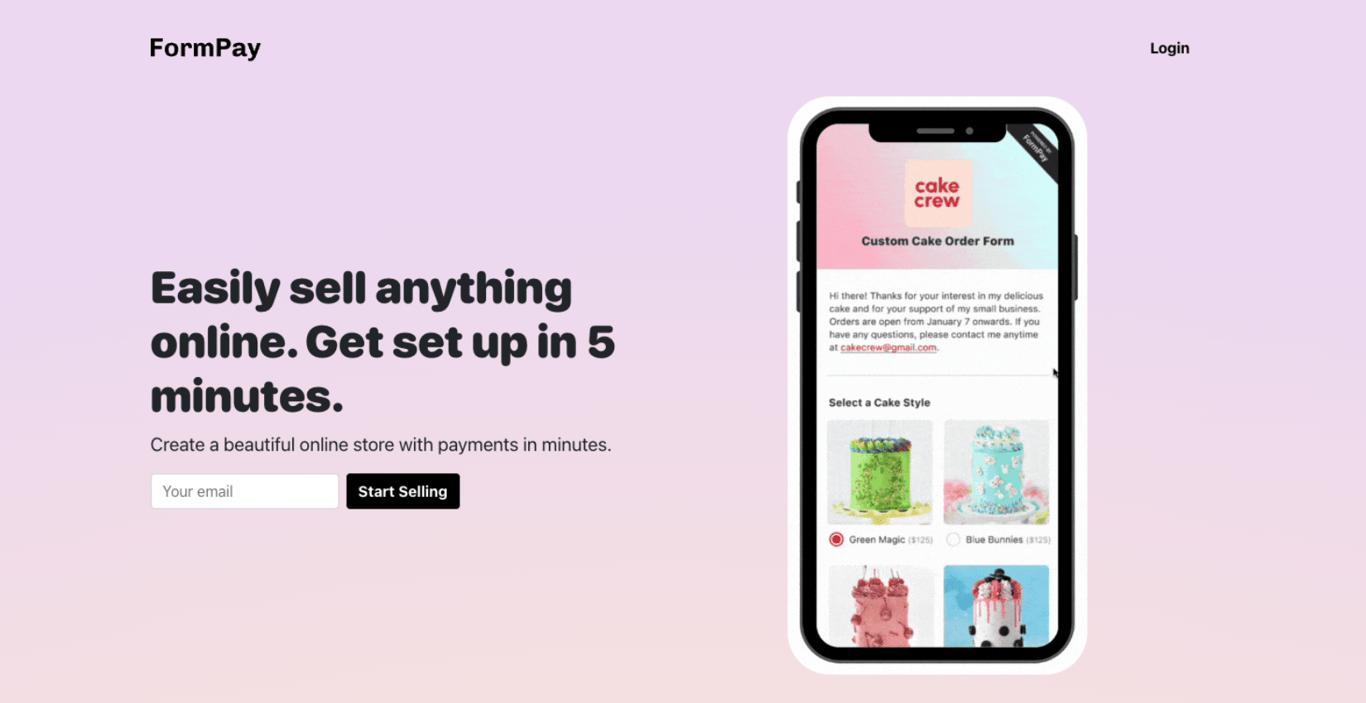 FormPay is one of the easiest-to-use and most affordable ecommerce website builders available. The up-and-coming ecommerce platform is designed with small businesses in mind. It's like a beautiful Google Forms with payments baked-in for a smooth checkout experience.
Though it has the simplicity of Google Forms, don't be fooled, because it comes with robust ecommerce features like automatic order notifications, promotional mailing lists, and an order dashboard.
Best of all, there are no monthly subscription fees, so FormPay is completely risk-free since you only pay a small transaction fee when you make money.
Best for: Small businesses that want to get up-and-running quickly and easily with online orders and payments without the complexity of building out a full-fledged website.
Feature highlights:
Price: No monthly fees. 5% + $0.30 per transaction.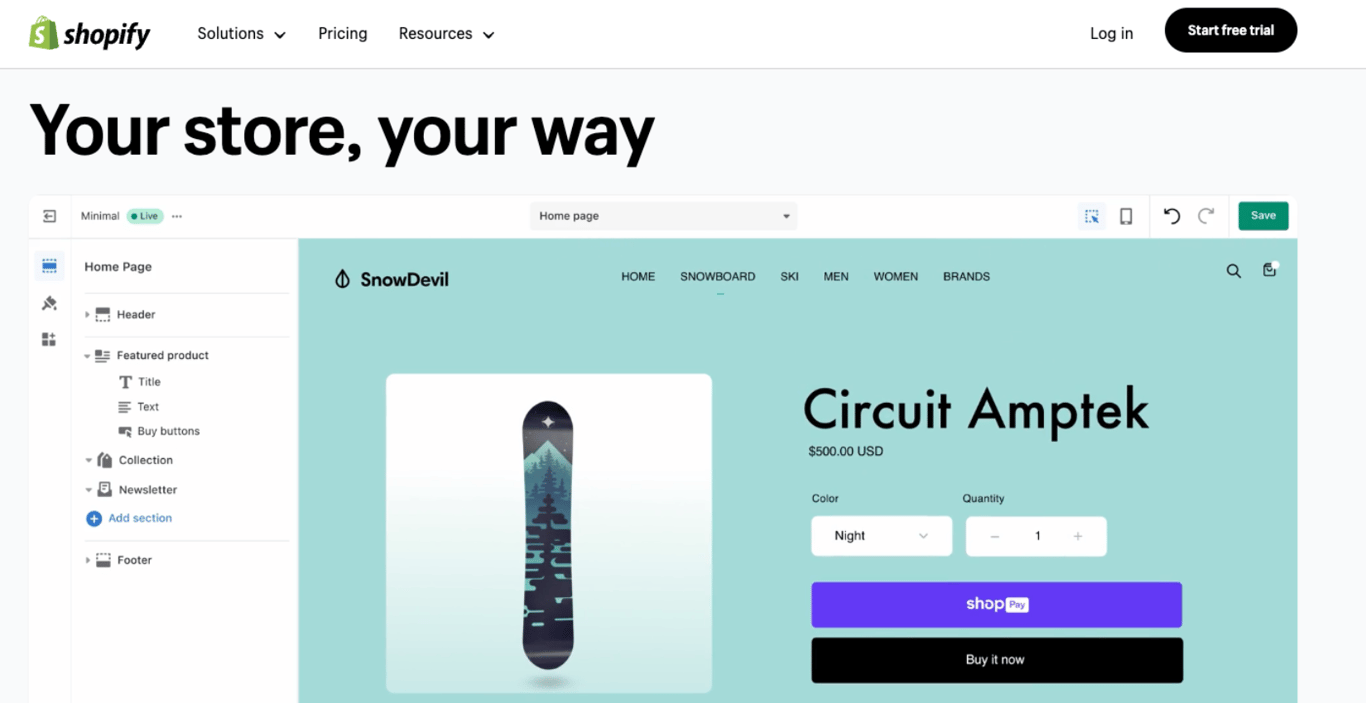 No ecommerce website builder list is complete without mentioning the big behemoth Shopify. Shopify is known for its powerful ecommerce platform where you can find a wide library of plugins from their app store. If you know your way around tech, and want a fully customized website that reflects your brand, the Shopify website builder has shop themes you can edit right down to the code-level.
Best for: Established small to large businesses with strong in-house or outsourced technical skills to set up and maintain the website. Dropshipping businesses that want to take advantage of Shopify's dropshipping features.
Feature highlights:
Customizable templates and themes
Headless ecommerce capabilities
Option to use Shopify Payments or your own payment processor
Shipping integration, inventory and order management
Shopify App Store for feature plugins (There may be additional fees for each plugin)
Price: Starts at $29 USD per month and 2.9% + $0.30 transaction fee to $299 USD per month with 2.4% + $0.30 transaction fee.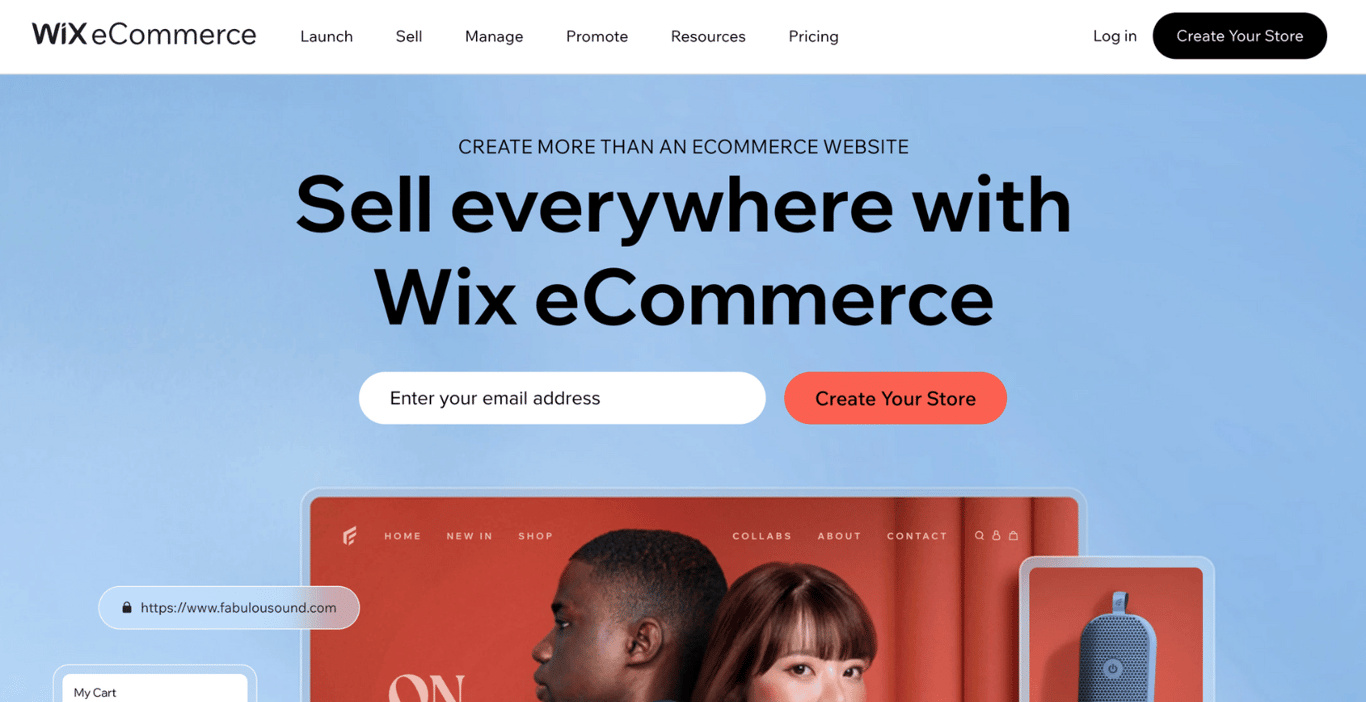 You're probably familiar with websites that showcase a banner with the ad: "This site was designed with Wix.com". It's a testament to how many people use Wix as a website builder. Although its drag-and-drop editor is at times easy and other times confusing, Wix's online store nevertheless offers you the ability to sell all types of products from physical to digital products and even services. And if you want to disable their ad banner, you can subscribe to their monthly ecommerce business plans.
Best for: Small businesses that want to sell locally and internationally.
Feature highlights:
Drag-and drop website editor
800+ website templates to choose from
Payment integration including Paypal
Wix dropshipping
International sales
Price: Wix's ecommerce pricing starts at $27 USD per month billed annually or $34 USD per month billed monthly, plus additional payment processing fees.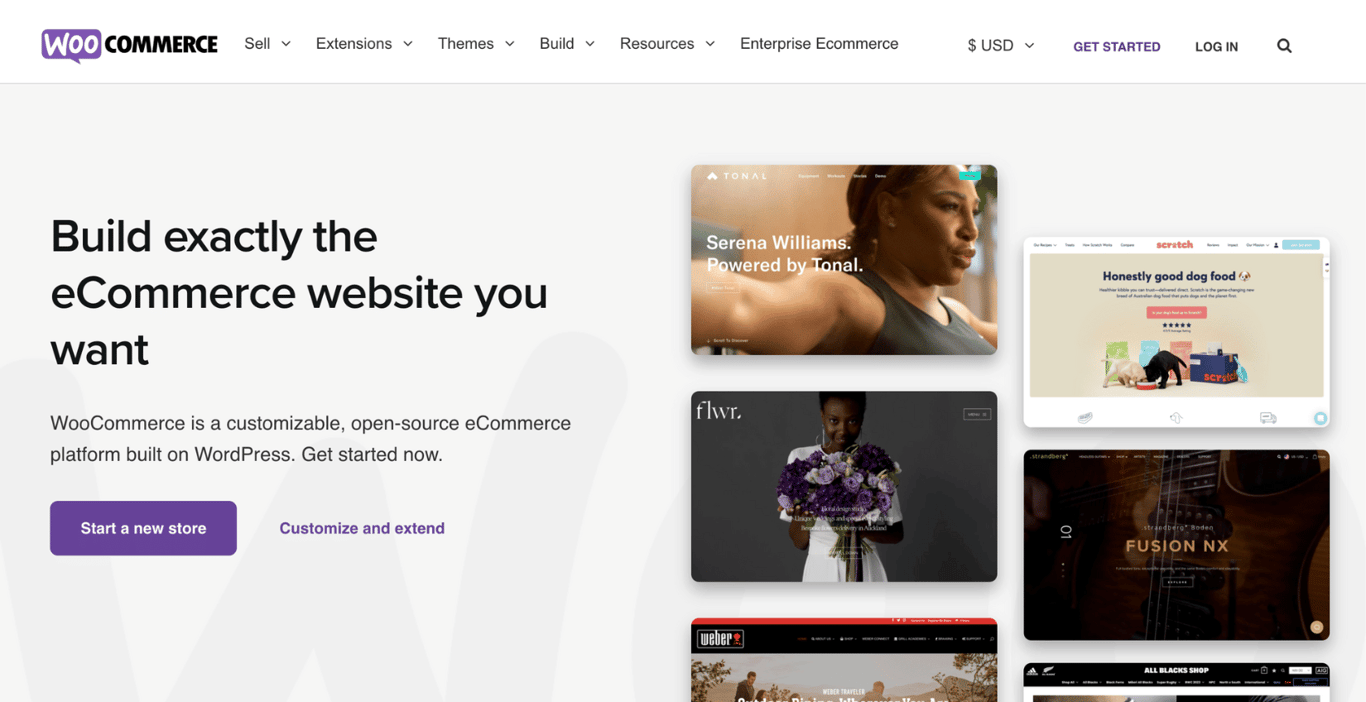 WooCommerce is often regarded as the "free Shopify" on Wordpress. If you're not keen to shell out hefty monthly subscription fees, you can try Wordpress open source tool instead.
For those who are familiar with the WordPress ecosystem, WooCommerce is like any other plugin. You can choose different themes for your store and use dropshipping-specific features. Unlike several other eCommerce platforms on the market today, you don't have to pay anything extra for these features - it's all included.
However, WooCommerce does require quite a bit of technical skills to set up and maintain — from setting up and paying for your own hosting service to figuring out how to install and upgrade plugins.
Best for: WordPress users with technical skills to set up and maintain WooCommerce.
Feature highlights:
Price: Free, but you will have to pay for a hosting service, and potentially hire an agency to maintain your website. There are additional payment processing fees to your payment processor, and add-on fees for WooCommerce plugins.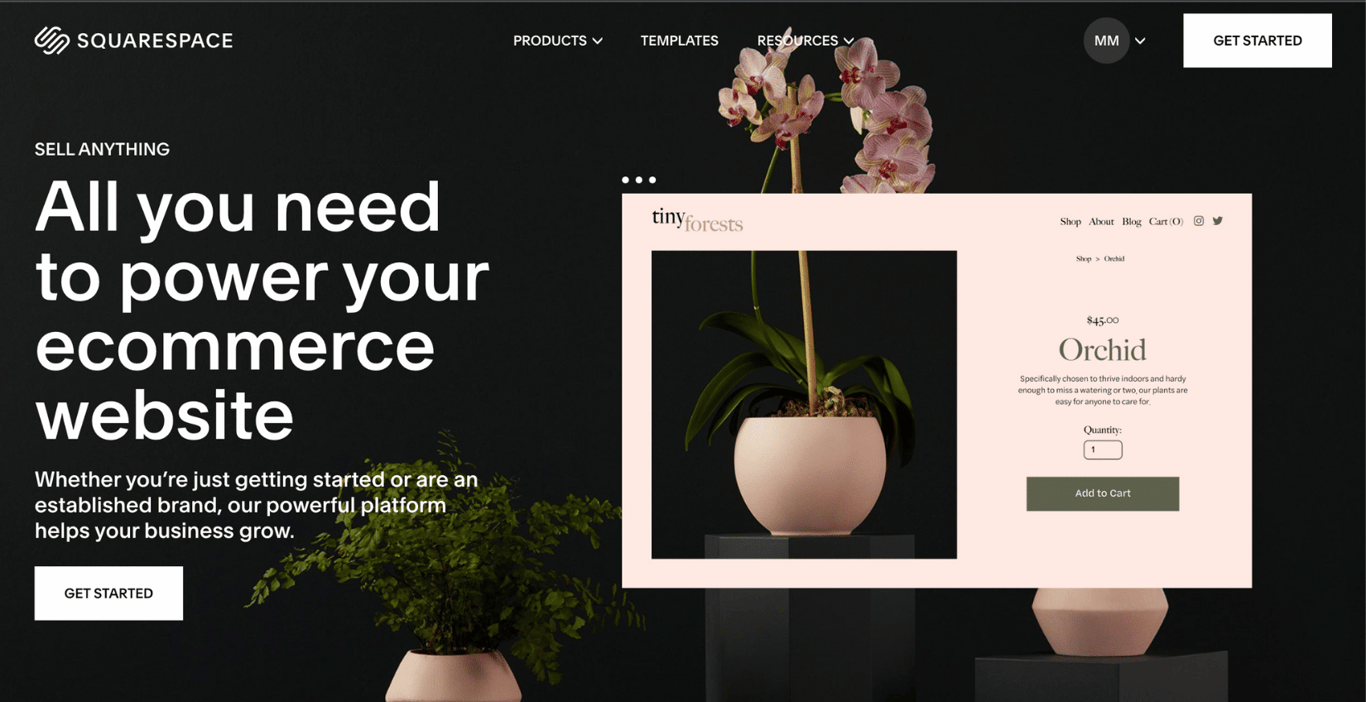 Squarespace is the preferred website builder for creatives selling products or services, because of its styling and modern templates with simple-to-use website editing tools. Its ecommerce feature suite is growing, but still lacks selling and order management features compared to more sophisticated ecommerce platforms. Though, if you're already a Squarespace user, it's as easy as pressing a button to add on online sales capabilities.
Best for: Creatives businesses already using Squarespace.
Feature highlights:
Beautiful, modern website templates
Integration with the Squarespace website builder
Flexible shipping options
Integration with other business tools like Xero accounting and UPS shipping
Price: $27 to $49 USD per month for Commerce plans and additional payment processing fees.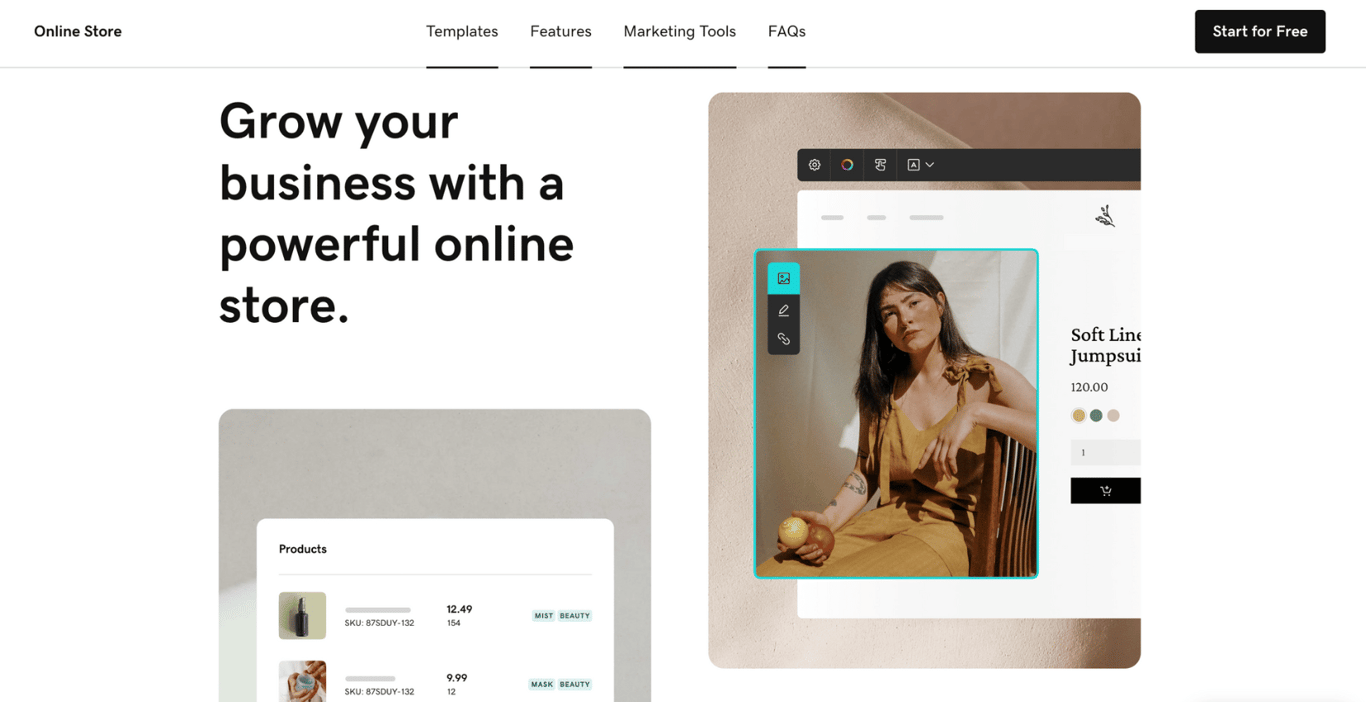 GoDaddy is best known as a domain registration service, but it also has ecommerce website builder tools too! The GoDaddy Online Store is part of the GoDaddy Website Builder that'll of course connect to your GoDaddy domain name. You can sell products and services, including digital goods. It includes integrations to other marketplaces like Amazon and eBay, and has advanced ecommerce features like abandoned cart recovery and product reviews.
Best for: Existing GoDaddy customers that want to stick with one provider for all their website needs.
Feature highlights:
Connected to GoDaddy domain and website builder
Ability to sell products on other marketplaces like Amazon and eBay
Abandoned cart recovery, SEO, and other enhanced ecommerce features
Price: $16.99 per month for first year annual payment, then $24.99+ per month after. Payment processing transaction fees are paid separately to the payment processor.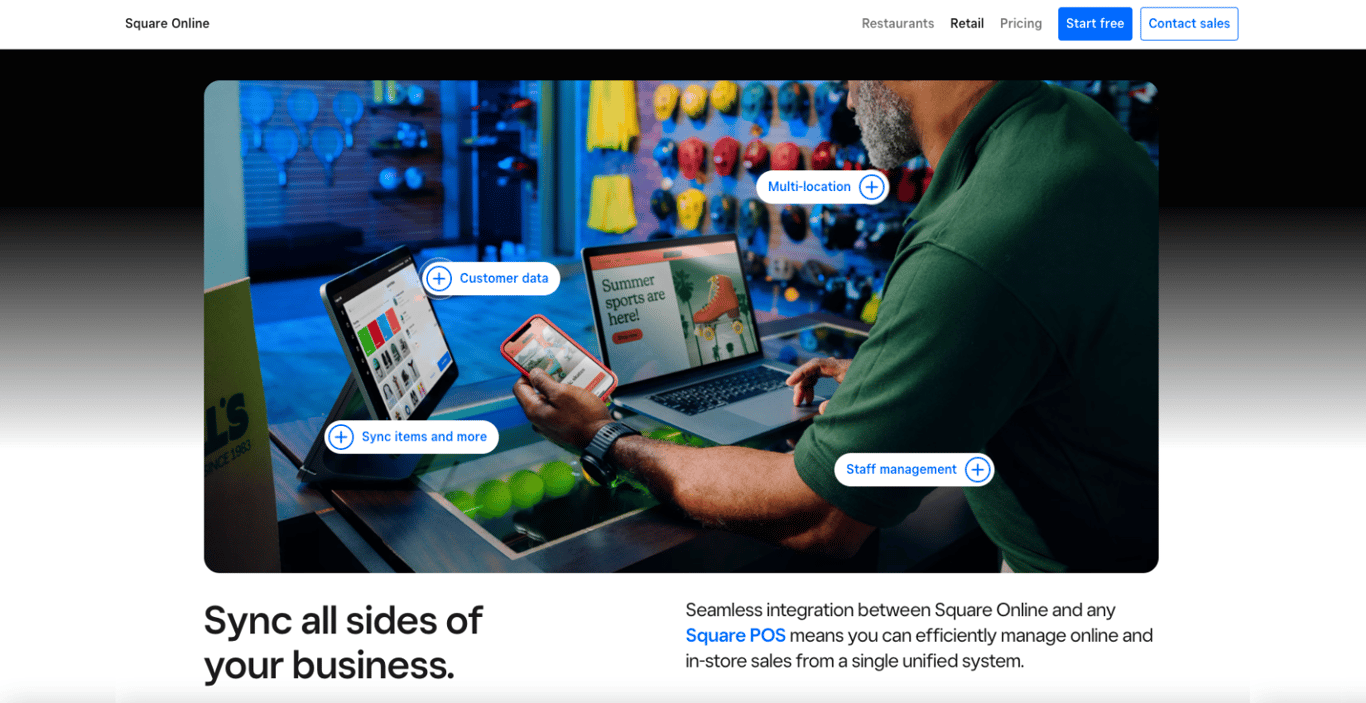 Square Online is Weebly ecommerce rebranded and integrated to the Square business suite. Compared to ecommerce-focused website platforms, Square Online is a lot more limited in terms of its branding and customization abilities. Nonetheless, its main advantage is their integration between online, instore and social sales. If you're already using Square as your in-store POS solution, it's as easy as enabling Square Online on your dashboard and building a website from there.
Best for: Square POS users that want to sync their online and offline sales.
Feature highlights:
Integration with Square POS and payments
Pickup, shipping and local delivery fulfillment options
App-like shopping experience
Free custom domain
Price: 2.9% and $0.30 per transaction to $79 per month + 2.6% and $0.30 per transaction
Start selling online with FormPay