Neartail Pricing 2023: Comparison of Plans, Fees and Alternatives
Updated: Nov 19, 2023
Published: Jan 21, 2023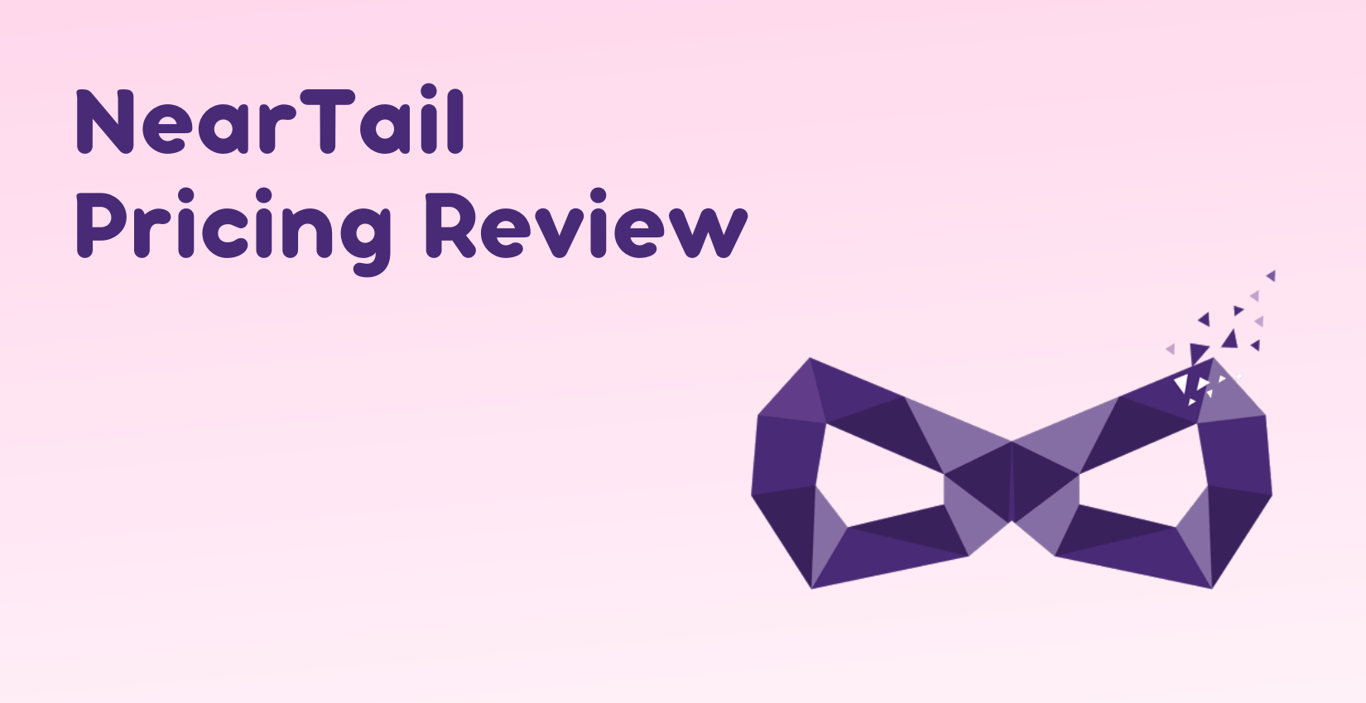 Neartail is a formbuilder that's an Google Forms add-on that allows you to take online orders and payments for your business or organization without needing a full-fledged ecommerce store. Even though Google Forms is free, using the Neartail extension does cost money. In this article, we'll review all the different Neartail plans and pricing, and explore alternatives to Neartail you should consider.
Neartail pricing plans
Neartail has three different pricing plans: Basic, Premium, and Business. The pricing plans range from $8 USD per month to $57 USD per month depending on which plan you subscribe to and whether you pay annually or monthly.
Their pricing plans vary based on the following aspects:
Number of responses per month: How many form responses you want to accept in total per month across all your forms.
Quantity of forms: The number forms you want to create.
Removal of Neartail branding on the forms
Whatsapp integration
Analytics add-on
Mailrecipe Google Workspace add-on that allows customers to update their order after order submission
WhatsTarget Google Workspace add-on that allows you to convert your order form to Whatsapp orders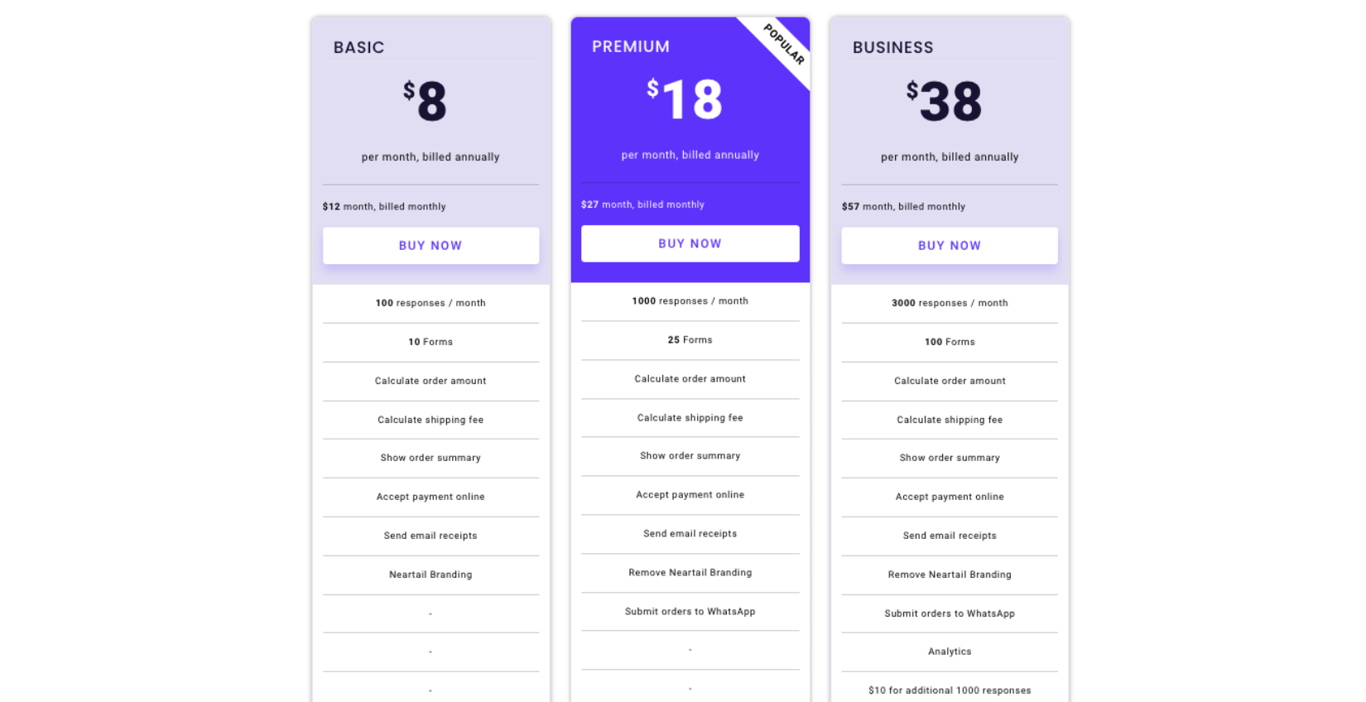 Neartail Basic
This is their most basic pricing plan starting at $8 USD per month. It's an entry-level plan designed for one-time sellers or sellers who don't anticipate a ton of transactions each month.
Pricing: $8 USD per month, billed annually or $12 USD per month, bill monthly
Form response limits: 100 responses / month
Number of forms allowed: 10 forms
Features included:
Calculate order amount
Calculate shipping fee
Show order summary
Accept payments online
Send email receipts
Mailrecipe - Basic
WhatsTarget - Basic
Pros: Great for sellers with low transaction volume or one-time use cases and want to try something out.
Cons: Neartail branding will be on your form, so if you're a stickler for branding, this may not be the best choice. You also don't have access to more advanced features such Whatsapp integration and analytics.
Neartail Premium
Neartail Premium is the most popular plan starting at $18 USD per month. In addition to a higher form responses limit, the main difference between the Premium plan and the Basic plan is that you get Whatsapp integration and the Neartail branding is removed from your forms. This plan is great for Whatsapp sellers who anticipate running their business on Neartail, need a higher monthly transaction limit, and want a more professional appearance for their order forms.
Pricing: $18 USD per month, billed annually or $27 USD per month, bill monthly
Form response limits: 1000 responses / month
Number of forms allowed: 25 forms
Features included:
All of the features in Basic
No Neartail branding
Whatsapp integration
Mailrecipe - Premium
WhatsTarget - Premium
Pros: Perfect for higher volume small businesses looking to professionalize and businesses that use Whatsapp as a primary way to communicate with customers.
Cons: There's no analytics and reporting. For Whatsapp sellers that don't need 1000 transactions, then this plan will be more pricey than Basic just to get the Whatsapp integration.
Neartail Business
As the name of the plan indicates, Neartail Business is designed for business owners who are serious about automating their business processes and growing their sales with Neartail. It contains 3000 responses per month, 100 forms, and the ability to purchase sets of 1000 more responses for $10 each. It also contains additional analytics tools for the business owner who wants to keep tabs on how their business is doing and where they can improve.
Pricing: $38 USD per month, billed annually or $57 USD per month, bill monthly
Form response limits: 3000 responses / month
Number of forms allowed: 100 forms
Features included:
All of the features in Basic and Premium
Analytics
Access to buy sets of 1000 responses at $10 each
Mailrecipe - Business
WhatsTarget - Business
Pros: Perfect for professional businesses that need to use many forms and accept 3000 or more responses per month, and need a way to keep track of it all with analytics.
Cons: Neartail Business is the most expensive plan and if you want analytics, you have to subscribe to this plan regardless of whether you use the other features. Also, if you need more than 3000 responses per month, you have to pay even more.
Can you use Neartail for free?
Neartail offers a free trial for 7 days, and 20 form responses for free when you start a new account. After the free trial period, you will be asked to upgrade to one of the paid plans.
If you're not ready for a subscription commitment to Neartail, FormPay is an alternative platform similar to Neartail, but has no monthly fees.
Other Neartail fees you should know about
There are two additional Neartail fees you should be aware of in addition to their monthly fees: Payment transaction fees and additional responses fees.
Payment Transaction Fees
Neartail allows you to accept multiple payment options including credit card payments through Stripe, Paypal, cash on delivery, bank transfer and cheque. For credit card processing through Stripe, you will have to pay Stripe's fees on top of your Neartail monthly fees. Stripe's fees start at 2.9% + $0.30 per transaction. Paypal and bank transfers also have their own respective costs.
Additional Responses Fees
If you need more than the 3000 form responses per month included in the Neartail Premium plan, then you need to buy additional form responses for $10 per 1000 additional responses. This could quickly add up if you need a lot of responses!
Free alternatives to Neartail
If you're not keen on a Neartail subscription, and want to explore similar solutions that give you all the same benefits of automatic order management and payments, but are risk-free, consider looking at FormPay.
FormPay is an easy-to-set up e-commerce solution designed specifically for small businesses like yours. It's like a beautiful Google Forms with payments and marketing integrated and fulfillment options like delivery and pickup built right in. Plus, you'll get a custom FormPay link that you can add to your social media accounts like Instagram to start accepting payments.
However, unlike Neartail, there are no form limits, and no monthly fees in addition to transaction fees. FormPay charges a single transaction fee, which means you only get charged if your customers pay you. You get all the benefits of Neartail plus more, without the upfront risks.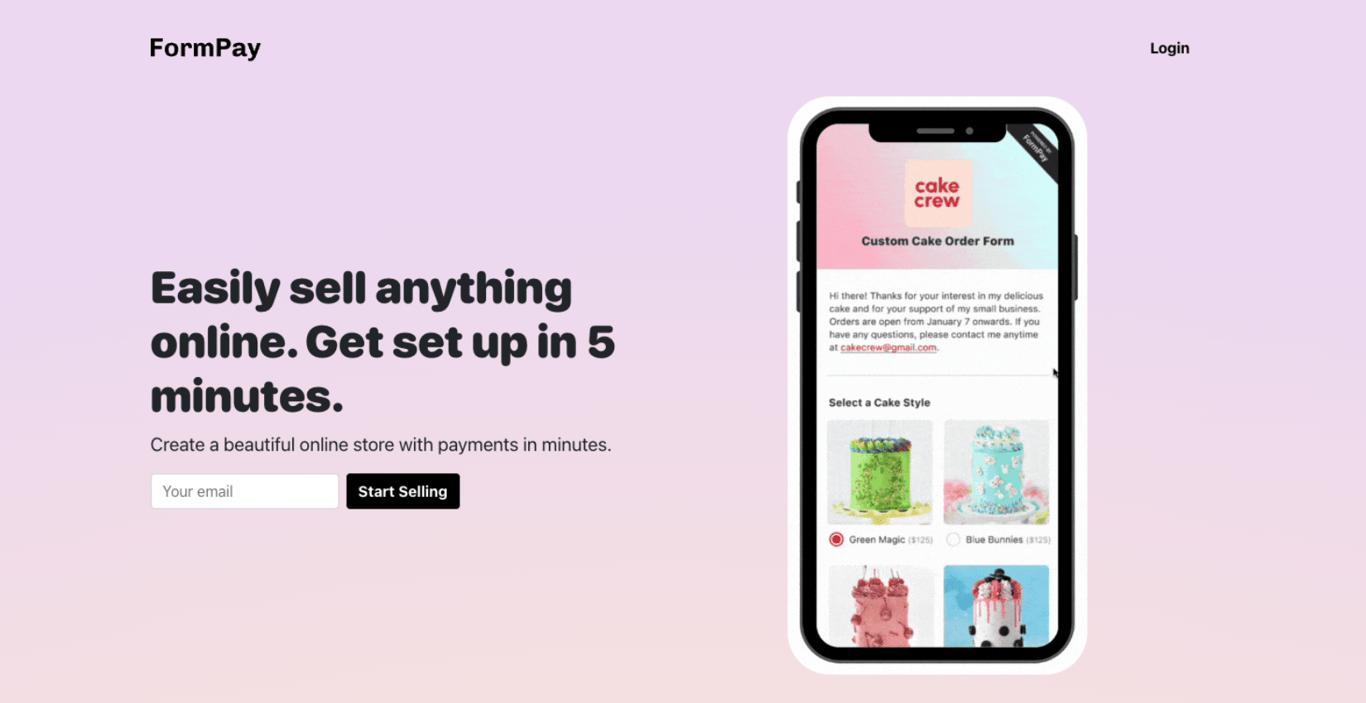 Summary
As a popular Google Forms add-on, Neartail is a viable solution for organizations and businesses that are looking for a step-up from Google Forms. Priced at three different levels, Neartail provides a pricing plan for every business size starting at $8 USD per month. You can try Neartail for free with their 7-day trial with a few dozen responses included.
On the other hand, Neartail can become quite costly if you are a business with high transaction volumes, and a need for analytics. If you plan to accept credit card transactions, you are also responsible for additional transaction fees.
Start selling online with FormPay