How to use Stripe for Small Businesses and Startups
Updated: Jan 21, 2023
Published: Jan 21, 2023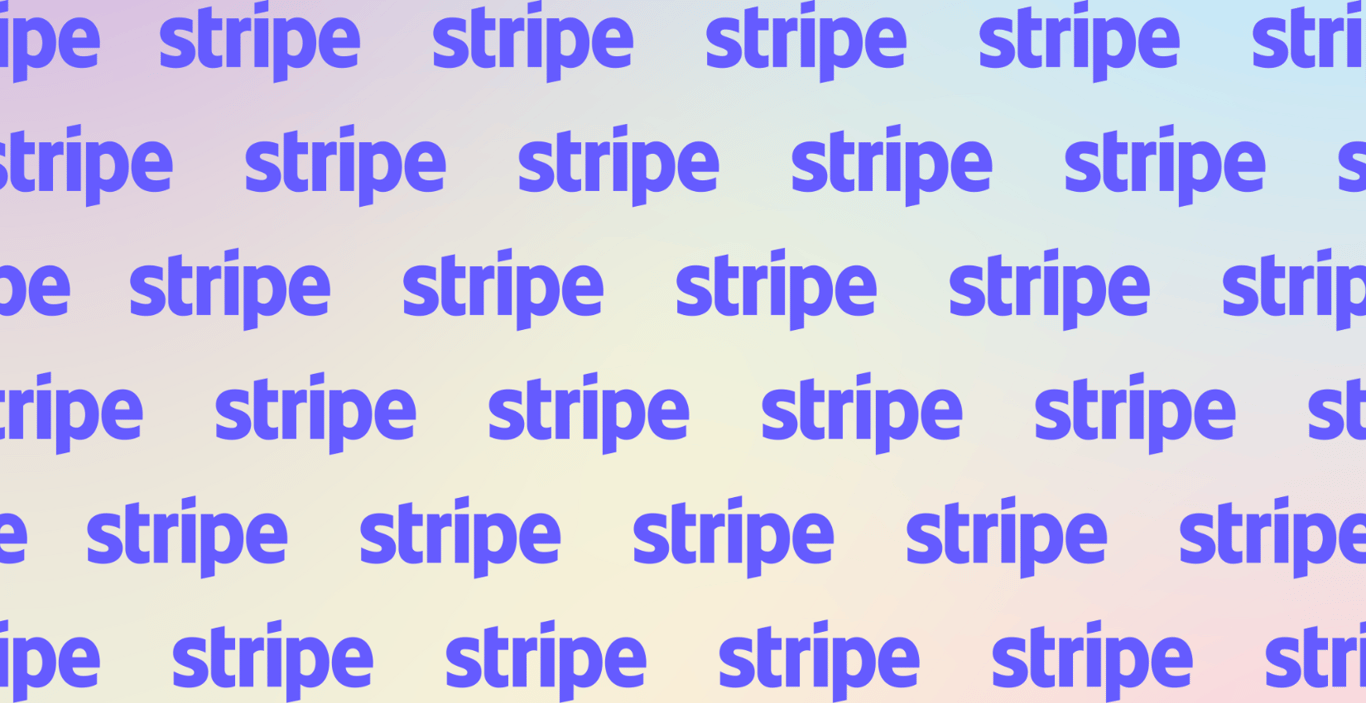 Small businesses are increasingly turning to Stripe for payment processing for selling online. Stripe started off as an easy payments software solution geared towards software developers and tech startups, but is gaining popularity with businesses and mom and pop startups that need to process ecommerce payments. The biggest question everyone has is: "Can small businesses use Stripe?" That's a resounding "yes!" In this post, we'll walk you through the steps of how to start selling online with a Stripe payments account, how much it costs, and Stripe alternatives.
What is Stripe?
Stripe is a payment processing platform that allows businesses to accept and manage online payments. It offers a variety of business payments features, including the ability to accept all the major credit and debit cards, Apple Pay, Google Pay, and even buy-now-pay-later solutions like Klarna, Afterpay and Affirm. You can use Stripe's pre-built Checkout solution, do custom integrations, or use their simple payment links to collect money from your customers.
Stripe isn't just for one-time ecommerce payments, it can create invoices and manage recurring payments like subscriptions too. Businesses of all sizes trust Stripe because it has robust fraud, tax, sales reporting, and customer relationship management tools.
You can use Stripe as a standalone online payment processor or invoicing solution for your business.
However, Stripe has limited ecommerce capabilities, so it's not optimal for online sales. Instead, pair Stripe with ecommerce software providers such as FormPay, Shopify, and WooCommerce for a seamless ecommerce experience for your customers and an easy order management solution for yourself.
How much does Stripe cost?
Stripe's pricing is pretty straight forward. Stripe's processing fee is 2.9% + $0.30 fee for every transaction if you're based in the US or Canada. If you enable their add-on products like Stripe Tax or currency conversions, there may be additional fees. You can take a look at Stripe's full fee schedule on their website. It is important to note that if you refund a customer, Stripe doesn't refund you their fees.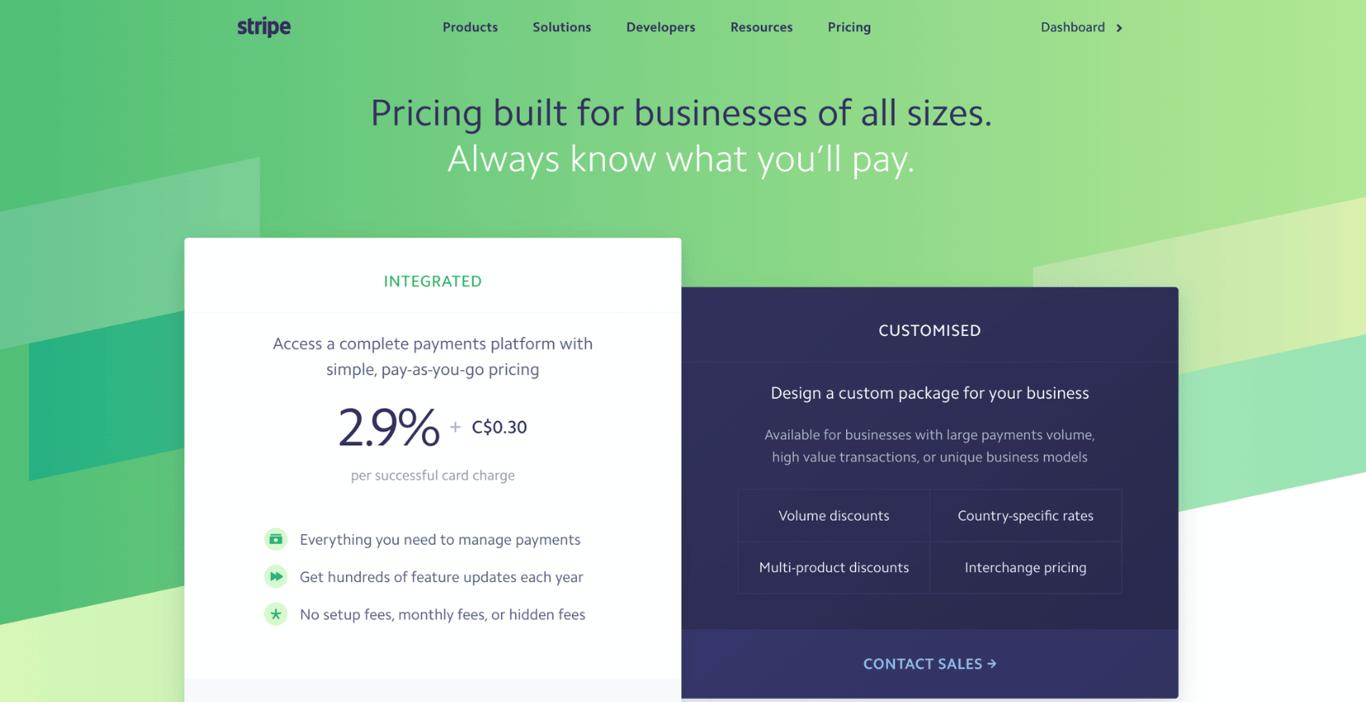 What is Stripe's payout schedule?
When Stripe deposits money in your bank account, that's considered a payout. Initially, when Stripe is evaluating the risk of your online business, your first payout may take a bit longer from 7 to 14 days. If you're worried about cash flow, fear not! Once you process more transactions and build a track record of operating a low-risk reputable business, Stripe will move you to a quicker payout schedule of 3 days turnaround. Keep in mind that the deposit may take a few days for your bank to process and record, which could prolong the time it will take for the funds to appear in your bank account.
If you would like a shorter payout time, consider offering your customers the option to pay you cash on delivery offered by ecommerce providers like FormPay. You can also set up a merchant account with traditional payment processors like Chase Paymentech and Moneris that will give you a faster payout speed, but will take more effort to set-up.
Steps on how to sign up for a Stripe account
Setting up a Stripe account is super easy and straight-forward. All you have to do is provide some basic information about your business and you'll be up and running in no time. Here's how to get started on Stripe:
Create an account on Stripe's signup page
Register your website. Even though you don't need a registered website on Stripe. You will need to provide a website or social media account for your business.
Connect your account with your ecommerce provider.Stripe has limited ecommerce capabilities, so if you're working with an ecommerce service like FormPay, Shopify, WooCommerce, BigCartel, BigCommerce, or Ecwid, you will need to connect your account with your ecommerce provider with their instructions. You may need to provide your provider with Developer access or your API keys to get setup.
Setup your payout information. Follow Stripe's instructions on how to add your bank account information to your Stripe account so you can get paid.
Determine taxes. If you need to collect taxes, you may have to set up Stripe Tax that gives you comprehensive tax capabilities like tax reporting and automatic tax rates by customer geography.
Offer promotions. Stripe offers a promo code feature on their Checkout page to let you incentivize and reward your customers.
Test your Stripe integration. Once you've set up your Stripe account and ecommerce solution, it's time to test that everything works smoothly. Stripe has lots of documentation on how you can use test credit cards and test API keys to emulate payment transactions.
Check out your reporting. After you make some sales, checkout your financial reports in your Stripe dashboard to reconcile your books and transactions.
What are Stripe alternatives?
Stripe is one of many payment processing options available for merchants accepting online payments. There are multiple competitors to Stripe, such as Paypal, Square, Ayden, Chase Paymentech, Moneris, and others. While there are alternatives, here are some of its benefits that may make it a preferred option:
Your customers don't need to sign up for an Stripe-specific account and can simply pay you with their preferred credit card.
You can accept payments in 47 countries that Stripe supports.
You have more choice in what type of ecommerce experience you want to offer your customers as many ecommerce software are integrated with Stripe.
You can start accepting payments in minutes without having to sign up for a special standalone merchant account to process payments. A merchant account is a special type of account that allows you to accept payment cards online generally with a lower transaction fee and shorter payout time, but with a longer setup process and more stringent criteria than Stripe. Traditional payment processors like Chase Paymentech and Moneris will require you to create a merchant account.
With its extensive payments features, it's no wonder Stripe is trusted by developers and now small businesses worldwide. Getting your online business payment-ready is an important part of your customer experience and how you sustain your business. Stripe can make it easier for you to get started.
Setting up Stripe for ecommerce
Getting Stripe up and running is one part of the online payment processing equation, but you also need a way to showcase your products and services, accept orders, collect customer information, notify customers and manage your orders. A suboptimal solution to achieve this is to use Stripe links with Google Form or Google Forms add-ons, but the best way to achieve this quickly and easily is to get set up with an ecommerce and order form solution like FormPay designed for small businesses. FormPay integrates seamlessly with Stripe and provides other payment options like cash. Whether you're starting an online food delivery business or selling your handmade crafts, with Stripe and FormPay working for your business, you can take orders and make money even while you sleep.
Start selling online with FormPay